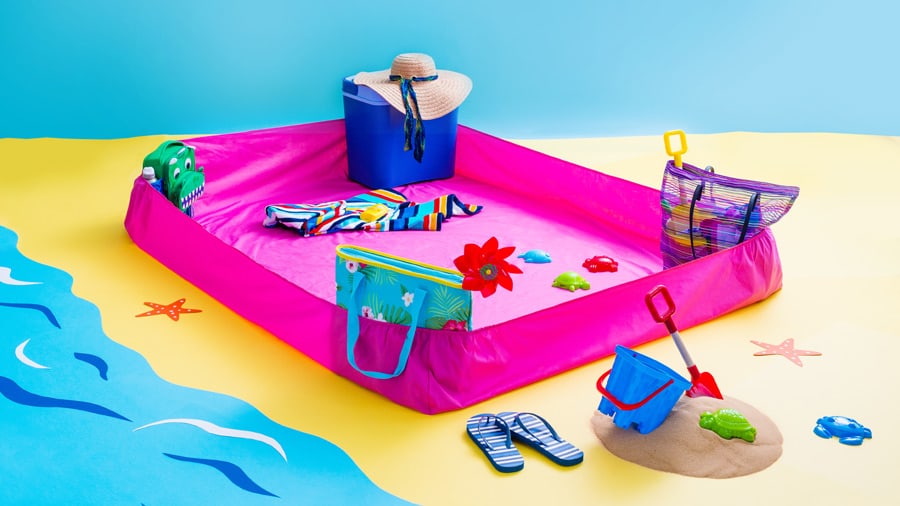 Some brilliant and useful tips from the Tesco bloggers:
1. Cheat a beach sheet
Use a fitted sheet to protect your belongings from sand. Simply place your beach/cool bags in each corner of the sheet and pull the corners up over them. You're left with a lovely, sand-free lounging space.
2. Talcum powder tip
Sprinkle talc or baby powder onto sticky, sandy skin (and even hair) and rub skin in a downwards motion. It will help to dry the skin and the sand will naturally fall away.
3. Toothpaste trick
Check if your toothpaste contains eucalyptus, which will help to calm burns and stings.
4. Soothe sunburn
Put some aloe vera gel in an ice cube tray and freeze. Melt onto scorched skin for unbeatable soothing.
5. Nifty way to hide valuables
Clean out an old suntan/aftersun lotion bottle and you've got the perfect place to store money, cards and keys safely.
If you're travelling with a child, stash belongings in a rolled-up nappy. It's unlikely thieves will want to chance looking in there.
6. BBQ condiment station
Decant sauces, sliced onions and tomatoes into a muffin tray and cover tightly with cling film. No need to cart big bottles to the beach for a BBQ.
7. Clever towel weights
If you're sick of your towel blowing away the minute you stand up, those outdoor tablecloth weights will do the job nicely.
8. Give a beach towel pockets
Want somewhere convenient to store your book and sunglasses? Sew some pockets onto your towel (using an old towel or piece of fabric) so you're not constantly digging around for them in a giant beach bag.
9. Freeze bottled drinks
If you're taking a drink for kids, make up a two-litre bottle and pop it in the freezer the day before. It will stay cool for ages and once finished the bottle can be used for playing in the water or sand.
10. Waterproof your gadgets
Protect phones, tablets and e-readers from the effects of sand and seawater by securing them in a zip lock bag. You'll still be able to use the touchscreen but you won't risk annoying scratches and water damage.
Thank you Tesco!!