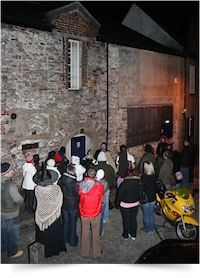 Haunted Plymouth Ghost Walks
I had an email today from our last guest at Blue Monkey who asked me if we had any ghosts… I replied that I hadn't had any complaints!  However, I did a little investigating and I found out that Plymouth has a rich history of spooks and ghouls!!!  So if your children are dissatisfied with our resident friendly spook… First Sunday of every month from June up until October… whooooo…
Last Walk: 3 September: 7.30pm (90 mins)
Adults: £5
Children under 15: £3
Children under 3 yrs: Free
Kingsand Murder Mystery and Treasure Trail
If murder and treasure is more your bag, then we can help you there too.  Kingsand and Cawsand has its own share of skeletons in its closets and the treasure trail clues will guide you to them with a Trail booklet of clues and the chance to win some real Treasured!  Shiver me Timbers!  The trail is approx 2 miles long and will entertain you for a couple of hours.  It's a great way to learn about the area and will be interesting to all ages from 6 to 106.
A booklet download costs £6.99 and you can do it in your own time
To hear about the pirates of Cornwall, we have our own Blue Monkey expert on hand to show you the caves and secret pathways.  Gaeton Poiret's walks are held at sunset on a misty eve and he will fill your head with exciting pirate tales.  Who needs Poldark?
For info please email: enquiries@bluemonkeycornwall.com