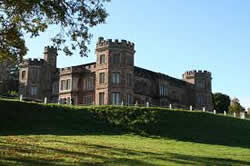 If you are holidaying with young children or teenagers, the award winning Blue Monkey cottage by the sea enjoys a superb position to explore family attractions in and around the Rame Peninsula. While the biggest draws for youngsters – and adults – is the beach, on some days you may want to take a drive out to tourist sites further afield. Along with historic buildings, there are also animal parks to visit and fascinating caves to explore, which all make a memorable day out.
Here we take a brief look at four popular, family friendly places to visit which are situated within a 40 minute drive of the critically acclaimed Blue Monkey 5 star self-catering holiday accommodation.
Cottages by the Sea Rame Peninsula – Click here to find more about our child and dog friendly holiday accommodation in South East Cornwall.
Carnglaze Caverns – Underground caves have a magical appeal for all ages; the imposing natural caverns leave a lasting impression on visitors, while the extraordinary underground lake and dramatic stalactites that hang from the ceiling like icicles, add to the excitement.
Open all year round, Carnglaze Caverns, near St Neot, is a 40 minute drive from Cawsand and offers a spectacular day out, whatever the weather. Expect a fascinating guided tour, which takes you 6 metres below ground level to the slate mine and ends in a breathtaking view of the crystal-clear underground lake.
If you are planning a visit to Carnglaze Caverns, a top tip is to wrap up well and bring good walking shoes or trainers. Afterwards, you can warm up with a picturesque amble through the woodland. Dogs are allowed in the outdoor areas but not in the caves, so pets can come too!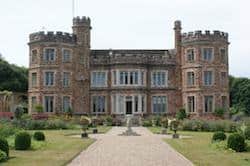 Mount Edgcumbe – Take a ten minute drive from Blue Monkey to Cremyll, and you'll discover one of the most popular historical tourist destinations in the region (open April to end of September).
Here you can find out about the interesting and turbulent history of the 16th century house and grounds. The nearby waters have seen hundreds of maritime events over the centuries (including ships lost in battle) and the house itself was destroyed by fire due to enemy action in WW2. Fortunately, Mount Edgcumbe was restored to an 18th century style, which is in keeping with some of the Edgcumbe family treasures.
If you are visiting as a family, there's a gift shop to browse in and plenty of places to eat within the grounds. After lunch, teas or snacks, the youngest (and oldest members) of your family will love the thrills of Adventure Segway. Or why not try your hand at Disc Golf – a 13 hole Frisbee course? Dogs are welcome in the park, although they must be on a lead in the formal gardens.
Monkey Sanctuary – Monkeys are fun and fascinating to watch, so your children are bound to find a day out at the Monkey Sanctuary, Looe, 30 minutes from Cawsand, an irresistible offer.
The sanctuary opens April until November 2, 11 – 4.30 pm (last admission 4 pm). If you are staying at Blue Monkey family friendly cottages again, within the year, a top tip is to keep your ticket as you can re-enter the sanctuary for free (open season only).
See rescued monkeys from the UK and pet trades, spectacular gardens, a bat cave and wildlife room with birds, plants, insects and amphibians. For the youngest children, a play area offers hours of fun, and the Tree Top Cafe is a great place to refuel!
Port Eliot – The Grade 1 listed Port Eliot House and Gardens is just a 20 minute drive from Cawsand and is a great attraction for youngsters who love to explore old houses or burn off steam outdoors.
The house and gardens are open from March to the end of July (closed Fridays) and you can either bring your own picnic to dine in gorgeous surroundings, or eat at the tearoom. Port Eliot is dog friendly and there's a regular fundraising Dog Festival to enjoy – the next one is on May 9th 2015.
If your looking for family friendly cottages near Rame Pensinsula call us on 07845 468 487 or alternatively you can book our 5 star holiday accommodation online.