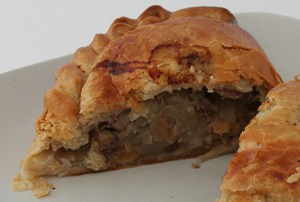 A luxury holiday in Cornwall wouldn't be complete without indulging in some traditional Cornish treats. Whether you pop into a local cafe to sample these regional delights, or enjoy a full, sit down meal, you don't have to feel guilty about counting the calories. After tucking into some delicious, home cooked food, you can walk it all off with a stroll along some of Britain's most scenic coastal paths.
While most of us can name at least a few traditional Cornish dishes and accompaniments, not all of us know the history behind these well known names. From clotted cream to the hearty pasty, here's a look at food the whole family will enjoy on your luxury holiday in Cornwall.
Luxury Holiday in Cornwall – Click here to find out more about Blue Monkey holiday cottage in Cornwall.
The Cornish Pasty – Although the history of the pasty in Britain can be traced back 800 years, the Cornish pasty emerged much later. Pasties used to be filled with meat or seafood, but the traditional Cornish pasty contains a mix of meat, potatoes, onion and root vegetables such as swede or turnip.
The region's pasty came about in the 18th or 19th century to provide a substantial meal to the tin and copper miners, to help keep their strength up. Pasties were easy to carry to the workplace and, as the miners worked in dirty conditions, they could eat the filling and ditch the pastry coating, which they held in their grimy, often contaminated hands. And, in later years when the miners migrated to make their fortune in other countries, the pasty gained worldwide recognition.
If you enjoy long walks, the pasty is the ideal food to take with you because it is so portable – and it will fill you up on your hike. You can buy them all over Cornwall from pasty shops to cafes.
Clotted Cream – A luxury holiday in Cornwall wouldn't be complete without enjoying at least one scone with clotted cream. Clotted cream is a rich cream, yellow in colour, with a crust on top. It is made by heating full fat Cornish cows' milk, which is left in the pan for hours to create its thick, clotted constituency.
The cream has its origins in ancient times. It was thought clotted cream was first introduced to the South West of England from the Middle East by Phoenician traders looking for tin. However, another train of thought is that clotted cream came about independently in England and was made in ancient times, simply because it was long-lasting. In bygone years, it was traditionally eaten with bread, although it is now more commonplace to have it with scones and jam.
Again, you can find clotted cream in supermarkets and independent stores, or you can sample this luxurious cream in Cornwall's many cafes and tea rooms.
Cornish Yarg – This traditional Cornish cheese is easily identifiable as it is wrapped in nettles, which are used to help preserve the cheese. The nettles are sprayed with a white mould which is all edible, and adds to the delicious flavour of the cheese.
It is thought that 'Yarg' cheese has its origins in a 13th century recipe. However, the cheese as we know it was produced by Cornish cheese making couple, Allan and Jenny Gray, in the 20th century, and the letters 'Yarg' are the reverse of their surname.
The cheese is creamy on the outside and crumbly in the middle and its constituency is semi-hard. The leaves are picked in the region and frozen, then brushed by hand so the sting is removed.
Blue Monkey Cornwall offers ample accommodation in a 5 star luxury holiday cottage in Cornwall, where the whole family can enjoy a break, including your four legged friend!  Visit our website to find out the availability for 2014