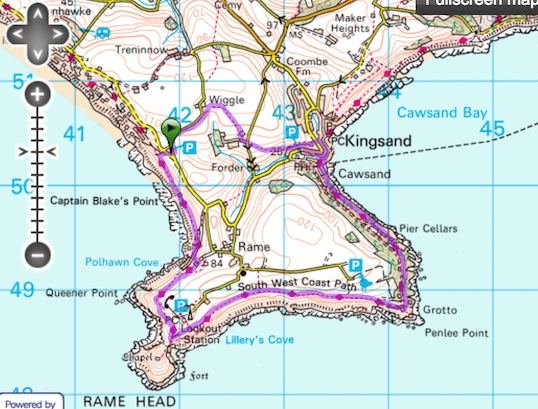 Penlee Point is a beautiful coastal walk for you, your friends and your family to enjoy
Penlee Point (Penn Legh) is Cornish for stone-slab headland and the point is a coastal headland southeast of the village of Rame in Southeast Cornwall, UK. The point lies at the entrance to Plymouth Sound.
Above the point and a little below the stunning Coastal Path is Queen Adelaide's Grotto, built in 1827/1828 to commemorate the visit of King William IV and Queen Adelaide to Mount Edgcumbe.  Penlee Battery is the former site of a fort, and is now a nature reserve.
The gun battery was constructed on Penlee Point in the late 1880s and used throughout both World Wars. It was initially armed with two 6 inch guns and a massive 13.5 inch gun which weighed 67 tons and took eighty horses two weeks to haul it up a specially constructed flight of steps. On its first firing, the recoil from the gun split its concrete bed. The battery was decommissioned in the 1950s and the buildings associated with it were demolished but there are still enough remains to appreciate the scale of the defences.
Rame Head is part of a small Area of Outstanding Natural Beauty known as the "Rame Head Heritage Coast" that also includes Cawsand Bay and the Mount Edgcumbe Country Park. 
Turn right out of Blue Monkey and keep walking and the road will take you all the way to Penlee Point.