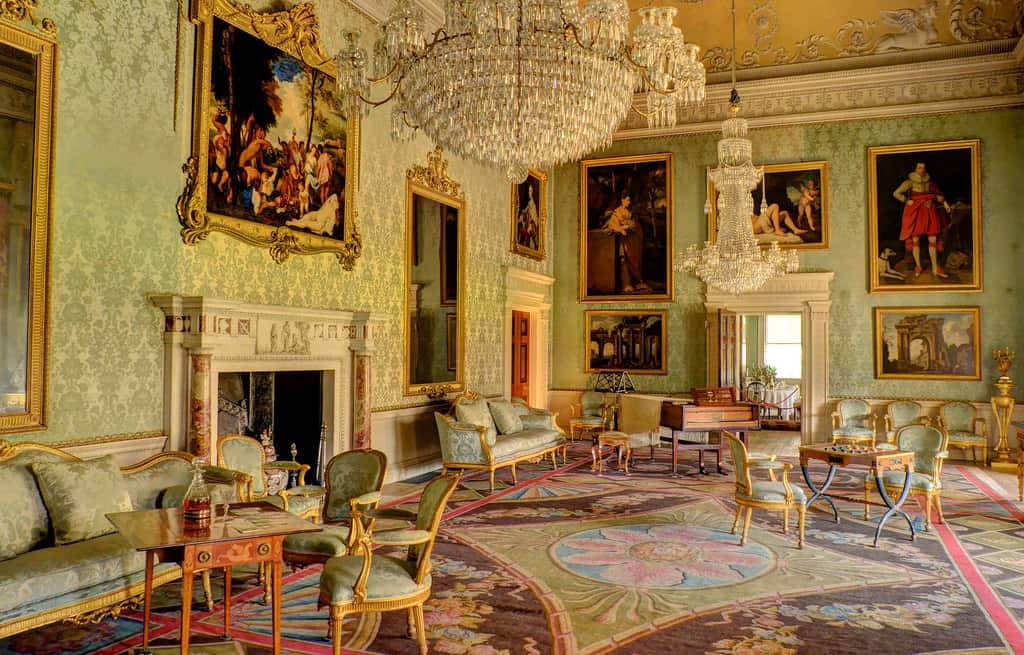 Situated in Plymouth, the National Trust owned country house, Saltram House, is a Georgian mansion surrounded by stunning parkland and pretty gardens. However, it is also reportedly home to some unwanted ghostly guests. Rumour has it a maid was gruesomely murdered in the kitchens and her presence is still around in the form of a hooded dark figure who roams the corridors and dining room.
The Elizabethan house dates from 1584 and is a restored captain's dwelling.
The most famous and well known story is that of an archaeologist from the Plymouth Museum who had an unexpected experience on a very cold dark dank October evening in 1983. The gentleman had arrived early to set up and prepare for the evenings lecture. It was around dusk when he first entered the Elizabethan house and he made his way up the old Elizabethan winding staircase. Although, as he ascended the stairs he heard a most peculiar sound, so he hurried to find the source of where this strange noise was emanating from. As he entered one of the upper floor rooms to his amazement he saw a small wooden child's cradle rocking from side to side all by itself, it was as if some kind of invisible force was indeed rocking the cradle at a steady pace. At this point he turned heel and hurried down the spiralling staircase feeling slightly unlevered at what he had just witnessed. By now a number of his guests had started to arrive, it was at this point that he felt compelled to inform them of what only moments earlier he had just witnessed upon the upper levels of the Elizabethan House. He even managed to convince a number of his guests to join him upstairs to see if the child's cradle would once again move freely upon its own accord. So once again the lecturer ascended the old wooden stairs followed by a handful of his guests. They entered the room and stood around the child's cradle. At this point the cradle was stationary and everyone talked amongst themselves joking about the situation, but the laughter was cut short and silenced, as it was at this point the cradle did indeed start to rock once again from left to right.
Local legend states that a figure of an infant child has been seen within this small wooden cradle. This has been witnessed only for a brief moment and then the apparition suddenly vanishes.
Also a figure of a young girl aged around 7-9 has been witnessed sitting in the corner of the 1st Floor room. A number of people have seen her looking out of the window whilst they have been walking around the upper floor of this building and passers-by in the street have been drawn to look up at this window. On a number of occasions passers-by have caught a glimpse of this child like figure looking back at them.
There are many reports of cold spots within the Elizabethan House even on a very hot summer's day, it is claimed that certain areas become icy cold even if only for a brief moment. Certain members of staff have commented, whilst they were on the ground floor, items of furniture has been heard being dragged around the upper levels, although upon inspection nothing is reported to be out of place.
Reel Cinema, Plymouth
The Reel Cinema Plymouth, previously known as the ABC cinema is situated at Derry's Cross.
On the 11th April 1937 Plymouth's old Theatre Royal was demolished and in its place arose The Royal Cinema owned by the Associated British Cinema's (ABC). The Cinema opened on the 15th July 1938. The ABC is one of only a handful of buildings that survived the Plymouth Blitz during the 2nd World War.
The world famous Liverpudlian band 'The Beatles' performed on stage at the ABC on Wednesday November 13th 1963.
Today Reel Cinema is renowned to be a very haunted location. In recent times a wide array of paranormal activity has been witnessed first-hand by both the Cinema's staff and paying customers, therefore it is no surprise that a number of paranormal investigations have taken place at this location.
The entire area of Derry's Cross where Reel Cinema is situated today is also known to be paranormally active, there is documentation stating that within this small area at least three burial grounds were indeed located here. One of these old burial grounds was used as a final resting place for a number of Napoleonic prisoners of war. It is also quite common for building ground works in this area to be stopped and delayed, due to the wide collection of human remains that have been unearthed.
Thanks to Devonlife and Oneplymouth