Family Friendly Cottages
Fun for Older Children at Family Friendly Holiday Cottages in Cornwall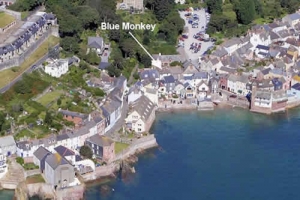 When you are looking for somewhere to stay with older children, family friendly holiday cottages in Cornwall are a great option. There is lots here to keep them busy and having fun from morning to night. Of course, the seaside is a major attraction for older children as well as their younger brothers and sisters, and Blue Monkey is close to beaches which have exciting adventure activities such as windsurfing.
However, there are also plenty of other options nearby for older children, ranging from the thrills of zip wiring to spending a day looking round Plymouth, easily reached by ferry during the summer. Here is a look at some ways to spend a day out while staying at child friendly cottages in South East Cornwall.
Family Friendly Holiday Cottages Cornwall – Click to contact us and find out more about Blue Monkey.
Surfing – Whitsand Bay here on the Rame Peninsula is one popular area for this sport, and the house has bodyboards to enable your kids to ride the waves. If you would like surfing lessons, these can be booked at Adventure Bay Surf School, tel. 07722 913 206 or email info@adventurebay.co.uk. Lessons catering for all levels from beginners upwards, and for family groups, are available. The school is combined with Eddystone Cafe, at the foot of the cliffs on Tregonhawke Beach, but there are also other places to eat nearby like the Gook beach cafe at Portwrinkle, or you could take along a picnic. The house has fishing and crabbing nets available to use as well as bodyboards, so you can combine a surfing trip with these other beach sports.
Zip Wiring – The longest zip wire in England, covering 490 metres and offering speeds of up to 40mph, can be found at Adrenalin Quarry, an exciting adventure play venue at Liskeard. Another attraction here is the Giant Swing, a ride giving scary thrills. The centre also offers coasteering for over-10s, with a package of activities including wild swimming and cliff climbing. The centre is open daily from Easter through to September, and at weekends at some other times of year. Opening times are from 10am to 5pm but there is also sometimes later opening. Call for details and advance booking on 01579 308204. There is a cafe here, but you can also order picnics and barbecues online, or take your own picnic. Another adventurous venue, Kartworld, is next door, so if some members of the family fancy zip wiring and others karting, you could take part in different activities and meetg up again later. Kartworld is normally open most of the year, in all weathers, with times varying. For details, call 01579 347 229.
Something Fishy – Just over the border into Devon, the city of Plymouth can easily be reached by taking the ferry from Cawsand, which is an exciting activity in its own right, or alternatively you can travel by road. A visit to the National Marine Aquarium, near where the ferry arrives at the Barbican, is great for kids in all weathers. Octopuses, sharks, a loggerhead turtle and many more amazing creatures can be seen here. The aquarium, which is the UK's largest, is open from 10am to 5pm in winter, or 6pm over the summer season, and it's advisable to allow at least three hours to see all round it. You can also book fast track entrance to beat the queues. For details, call 0844 893 7938 or email enquiries@national-aquarium.co.uk. The aquarium has several cafes, or alternatively you can continue the fishy theme of your day by eating at nearby Rockfish Seafood and Chips. A visit to the aquarium can also be combined with a look around the Barbican area of Plymouth and a walk around the famous Mayflower Steps, where the Pilgrim Fathers are believed to have left for America.
Animal Magic – Porfell Wildlife Park (01503 220 211) at Trecangate is close to both Liskeard and Looe, and is the largest exotic animal sanctuary in Cornwall. It has more than 250 animals, including meerkats, lemurs and marmosets, and is an ideal day out on family friendly holidays, offering kids the chance to get up close to some of the animals. Between March and October the park is open from 10am to 6pm daily, with more limited opening over the winter. The wildlife park will take half a day to see and does have a tea room, but you could also aim for lunch or tea in nearby East Looe. The sandy beach is popular with families and a great place for crabbing. Places to eat out include the Rusty Bucket coffee shop on the seafront, offering snacks, sandwiches and chips. Here, facilities include children's toys at the table, a play area, games consoles and free wi fi.
When back at Blue Monkey after a busy day out and about in Cornwall, there is even more entertainment on hand for youngsters. You can have a barbecue in the garden, enjoy a game of cricket or boules or get around the table for Monopoly or Scrabble – all among this family friendly holiday cottage's facilities.
Family Friendly Holidays Cornwall – Follow the link to find out latest availability and book.