Winter Holidays in Cornwall
Winter Breaks at Large Holiday Cottages in South East Cornwall
Going to South East Cornwall in summer might be the first thing that comes to mind, but winter is also a great time to take a break in this part of the world. Booking large holiday cottages offers a chance to get away with the family or friends, have some downtime to recharge your batteries and explore the coast and countryside.
Rates are lower out of the main tourist season, and everything is less crowded, so this is an opportunity to go for long walks, and have excellent meals out and cosy nights in. Cornwall is an ideal destination because it has a famously mild climate compared to the rest of the UK, with freezing weather a rarity and more sunshine than anywhere else in the country, even in winter. Blue Monkey, an unusual holiday cottage in the twin communities of Kingsand and Cawsand, offers winter guests a warm welcome. There is an open fire for a cosy atmosphere, and logs are provided. The cottage is also a great choice for dog friendly self catering. Out of the main season is often the best time to go on holiday with dogs, as they are allowed on more beaches when most tourists are gone.
Large Holiday Cottages South East Cornwall – Click to contact us now.
What to Do in Winter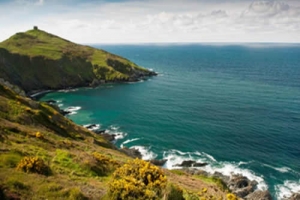 Walking around the Rame Peninsula can be even better when it is cooler, because you will be able to trek longer distances without getting tired. There are some excellent walks to try, including sections of the famous South West Coast Path, which has been voted one of the best footpath trails in the world. The three-and-a-half mile stretch between Cremyll Ferry and Cawsand has been chosen by the South West Coast Path Association as an ideal "autumn amble", offering impressive views of the Plymouth Sound as the leaves in the woodland turn to gold. If you want to bring your dog, this is an especially good walk as it goes past both a beach and a pub where dogs are allowed.
As well as walking, some sports are still available out of season. For instance, Mobius Kite Sports (08456 430 630) offers tuition in kite sports like landboarding and kite buggying all year round, although it doesn't teach kite surfing in January or February. It is also possible to play golf at Whitsand Bay Golf Club, with lower green fees between November and March.
Foods to enjoy on a winter stay at large holiday homes in SE Cornwall vary from fresh local Cornish pasties to dinners in pubs and restaurants like the Devonport Inn. Here the seafood pie would be a perfect choice for a cold day, followed by one of the homemade puds, such as sticky toffee pudding with Cornish clotted cream. Alternatively, have a cosy evening at Blue Monkey, cooking dinner in the well-equipped cottage kitchen.
Where to Go in Winter
A number of attractions in the area are open all year round, including the National Marine Aquarium in Plymouth, which is an ideal place to visit in bad weather, as it is all undercover. All kinds of creatures can be seen here, from sharks to starfish. Also in Plymouth is the Mayflower Exhibition, which is open 12 months a year, with displays on three floors, tracing the maritime history of the city and the voyage of the Pilgrim Fathers. Plymouth is known for its cafe culture, and during a day out in the city you can enjoy a cup of coffee or a juice at one of its many coffee shops. Or try a lunch, speciality tea or coffee at Plymouth Arts Centre Cafe, run by Sammy Lounds, who was taught by TV chef Jamie Oliver.
Around an hour's drive from Cawsand, two of Cornwall's most famous garden attractions are open all year round, the Eden Project and the Lost Gardens of Heligan. The Eden Project, at Bodelva, does have a lot of gardens outdoors, but there is also plenty to see in bad weather, as it features an indoor rainforest created in the world's largest greenhouses. The Lost Gardens, a little further away, also offer much to see here too all round the year and the site has featured in BBC's Winterwatch series.
Some attractions in Cornwall do close down during the winter months. This includes stately homes like the National Trust's Antony, as well as Mount Edgcumbe House and the Earl's Garden – although here the surrounding park is open all year round to walk through free of charge. You may also find that some activities on the coast are not operating, such as boat trips and ferries.
However, there is still plenty that is open, and you can enjoy the wonderful fresh air and winter sunshine together with loved ones in the luxury setting of Blue Monkey, one of the best large holiday cottages in South East Cornwall. Sit in the cosy atmosphere around the log fire and enjoy your break from everyday life.
Our luxury holiday cottage is a perfect place for Winter holidays in Cornwall. You can book here, or call us 07845 468 487