Luxury, Family Friendly Cottage in Cawsand, Cornwall
If you are looking for a luxurious and spacious family friendly self-catering holiday cottage in Cornwall then the Blue Monkey may be just right for you.
Blue Monkey is a picture-perfect Grade II listed child and dog friendly cottage in Cornwall with a beautifully renovated interior featuring four large bedrooms and an equal number of glamorous bathrooms, including two with deep and indulgent freestanding baths.
We offer families a taste of the good life, whatever the season. The beach is just a short dash from our doorstep, whilst inside there are romantic log fires and an extensive range of amenities and entertainment all designed to make your stay as relaxing, comfortable and enjoyable as possible.
Please do visit our Review Section to read comments from our many family customers.
Our younger guests are very well catered for with a 3 travel cots, 2 high chairs and 2 stair gates, 1 at the bottom of the stairs and at the top of the second floor stairs where they are commonly accommodated in the pretty twin bedroom.
The enclosed terrace garden at the rear is a lovely, secure space for little legs to stretch, although the beach (just a 30 second dash away) is often a stronger draw!
If you require a babysitter, please ask Annabel to organise from her database of certified babysitters.
Baby / Child friendly Items Provided:
3 travel cots (1st floor under bed in back bedroom)
1 baby door bouncer (1st floor under bed in back bedroom)
2 baby changing matts (1st floor under bed in back bedroom)
2* High chairs
2* Stair gate (1st floor front bedroom trunk)
Baby bath (1st floor under bed in back bedroom)
Toddler's Loo Step
Foam play matt – jigsaw fit
Baby Place Setting / Melamine Feeding Set
Day travel rucksack
Black out curtain (with window suckers on it – ideal when setting up cots in 1st floor front bathroom)
Beach tent with sun shade
Waterproof picnic matt
1 Towel, 3 Sheets, 1 Blanket
Bag of baby toys (ducks, book etc)
Emergency nappies
Fishing nets, crab lines, body boards, cricket bats, boomerangs, boules etc (Please remove sand after use & dry)
2 body boards
Bookcases of books, games & DVDs as well as some of the most beautiful English countryside & beaches for a playground
Board games are stored in the cupboard in the left living room cupboard. (Please don't remove any books from property).
Lego and Duplex in the living room
Socket protectors / Fun Blocks / Due to H & S -very few baby & young children's toys are provided – (always advisable to bring your child's favourites)
Blue Monkey in Detail
Living and dining area
The spacious open plan living -dining area is a lovely spot for cosy family nights.
It has plenty of comfy seats, exposed stone walls as well as an open log fire offering both warmth and character.
There's a wealth of entertainment as well including
Bose iPod doc
40 inch HDTV with Sky package
DVD, VHS recorder, stereo system with CD player.
A wide range of books, over 100 DVDs and board games.
The Dining Room is bright and airy thanks to its white washed walls warmed by a stone feature fireplace and large wood dining table with seating for up to 10 guests.
From the dining area you can access the lovely courtyard garden with a BBQ and seating area. It is quite a suntrap and perfect for morning coffee, lazy afternoons or evening meals al fresco.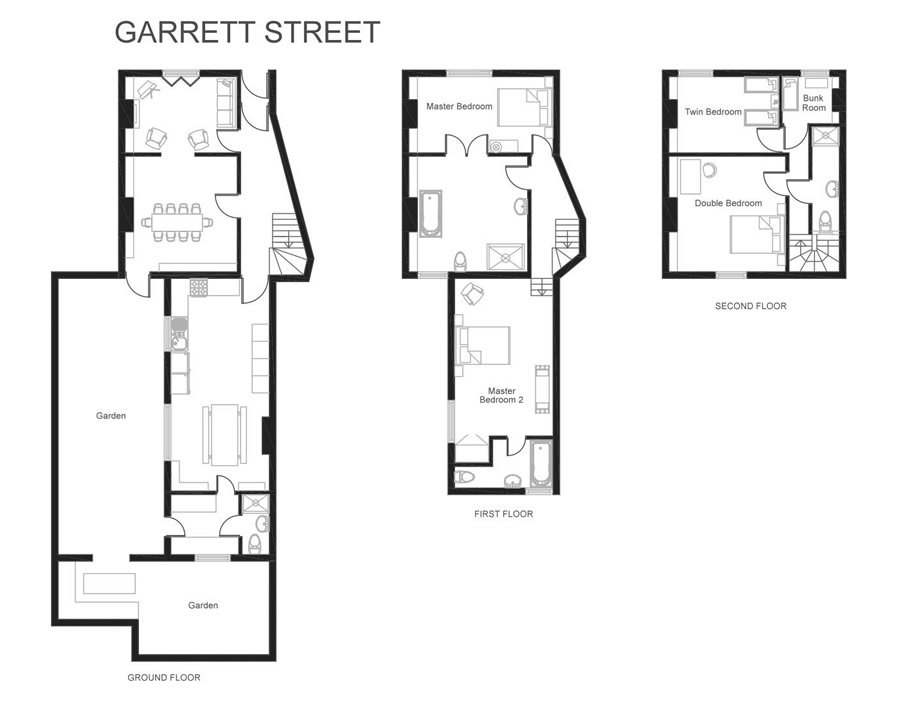 Kitchen
The large kitchen is well equipped for hungry families and stylishly kitted out with an electric oven, grill, hob, fridge freezer, wine/beer fridge, dishwasher, microwave, food blender as well as a casual dining area for breakfast time.
Utility room
There is a separate utility room with a washing machine and tumble dryer plus a second access door to the garden.
There is also a fourth shower room on the ground floor which is ideal for washing off the beach before settling down for the evening.
It is also handy for four-legged guests, since well-behaved pets are always welcome at Blue Monkey!
Bedrooms
Of the four bedrooms, two are on the first floor along with the main bathroom, and two on the second floor.
The Master Bedroom is a perfect private retreat for parents, with a lovely double bed and en-suite bathroom with romantic roll top bath.
The Second Bedroom, a further double, is another haven with a contemporary white theme and a scattering of antique pieces. It has 'Jack & Jill' access doors to the main bathroom.
The second floor is home to a further double bedroom with original fireplace and shared shower room with a twin bedroom which has a lovely feature fireplace

Reviews from guests with families
Luxury holiday cottages in Cornwall: "The Blue Monkey is gorgeous – it surpasses all expectations of a 'holiday home'. It is spacious, well equipped and tastefully decorated. It is clearly loved by its owners and I have to say that we have fallen in love with it too. I would have no hesitation in recommending it to anyone and we will definitely return in the foreseeable future." Gould Family, Apr 10.
Luxury beach cottages Cornwall; "Blue Monkey is presented and maintained to an excellent standard. It is warm, welcoming and very well equipped and you immediately feel at home. Just yards from the beach." Pete March 13.
5 star cottages Cornwall:"This was our second stay at "Blue Monkey" and I can honestly say that stepping back into the house was like coming home. Everything had such a comfortable familiarity about it – my husband and I were truly thankful to be back! The owner of Blue Monkey has thought of every comfort and we found many updates and improvements since our last visit (not that it wasn't perfect the first time!)." John & Denise Feb 13.
Holiday Cottages Cornwall: "The accommodation is excellent. All the possible facilities and equipment that you could ask for. I would recommend for either families with children young or old. So nice to go somewhere that feels like a home rather than holiday accommodation." Steve Dec 12.
5 star cottages Cornwall: "The Blue Monkey was a great base to explore the area, being only a few steps from the beach, and had everything you need in a home away from home". Nick H Aug 12.
Blue Monkey is a lovely house – "spacious and practical but stylish as well. It suited our needs as a 3-generation extended family very well. Kingsand and Cawsand are perfect villages for a relaxing holiday. Beaches were on the doorstep, and good walking, village shop, post office, pubs, cafes, were all to hand," Juliet Aug 12.
"Blue Monkey is what is says on the packet. Practical but luxurious. We didn't much at all apart from flip flops and a bucket and spade. The kids spent most of their time bombing down the car free zone by the beach on scooters while we sipped wine and ate lobster. Heaven. Back at Blue Monkey, everything was taken care of – it is obvious that the place is loved by its owners as well." The Martins Jul 12.
Child friendly cottages Cornwall: "Stayed here for a week with two families. It is a beautiful, stylish house in the middle of the village. The house is very well set up for a big group or couple of families. The living rooms, bathrooms and bedrooms are stunning. There were two Canoes available which we used most days with the kids. Great to also have a shower downstairs to throw wet & cold children into. We would stay her again or recommend to anyone else". B Medical Jul 12.
Accommodation near polhawn fort: "Were it not for our friends choosing to get married in the Rame peninsula's stunning Polhawn Fort, we most likely would never have discovered this very special corner of Cornwall or the beautiful bay and seaside villages of Cawsand and Kingsand. Our primary considerations when searching for accommodation were location, space, and child-friendliness. The Blue Monkey appeared to offer exactly what we were looking for, and in reality easily lived up to our high expectations." D Hassell Jul 12.
Dog friendly cottage in cornwall: "We chose Blue Monkey because the house had everything we were looking for. On arrival to the house we were really taken aback by its grand scale it was much bigger than we had all anticipated. We were blown over by the Master bedrooms en suite." Hayley Jul 12.
Private Holiday cottages in Cornwall;"We returned for a second year at the Blue Monkey for another fantastic Easter holiday. The house suited everyone from the grandchildren to the grandparents especially the large kitchen area." Stephanie April 12.
Cawsand holiday cottages: "We had a lovely stay at blue Monkey. The owners really have thought of everything! It's in a great location – right in the centre of Kingsand and so close to the beach but also very quiet and peaceful. Kingsand was a great find for us – we have been to many other places in Cornwall but never here, we loved it! A great combination of a charming fishing village, great coastal walks & some really great places to eat. And a really special, beautiful beach at Whitsand. The house is superbly equipped (we had a baby & all the baby equipment was much appreciated) & is very comfortable and spacious. Brilliant to find somewhere of this quality that is happy to have children & dogs – a rarity. We will definitely be back!" Anna Feb 12.
Holiday cottages in Cornwall with sea views; "With access straight to the beach we went for bracing walks and drove to surfing beaches then return to Blue Monkey to a log fire and hot baths. We even found a lovely babysitter and had an evening out, Heaven.". Windsor Family, Oct 11
Cornish holiday cottages: "Staying at the Blue Monkey was a delight from start to finish. The booking service was excellent, personalised & most accommodating to our needs. The Blue Monkey itself has the look & feel of a real home." Sue & James, May 10.
Child friendly cottages Cornwall: "The beaches and the local walks were perfect for both children and adults, running routes were glorious, crabbing was entertaining and the local ale, ice cream and pasties were delicious. This is a place I can imagine returning to again and again as the children grow older – where they really can be children; running bare foot past the house with a sense of pure freedom, wielding crab nets and shrieking with laughter is something that all children should experience and Blue Monkey is the place to do it!" Williams Family, Jan 10.
Holiday Cottages Cornwall: "If we did decide to live at the seaside I cannot imagine any nicer village than Kingsand & Cawsand or indeed any nicer house than The Blue Monkey for it is absolutely delightful in the village and in the house. It is extremely comfortable and provides everything that you could wish for." R & C Sept 09.
Luxury holiday cottages in Cornwall: "Upon arrival we were greeted by the most wonderful, spacious and welcoming house we have ever stayed in. The 3 children spent the first hour just running from room to room just enjoying the light and the space before we took them on the short (30second) walk to the delightful beach. The house was wonderfully equipped for children – there was a blender for making purees, Sky HDTV for the odd CBeebies programme!, high chairs, a stair gate at the top of the house where the children slept, baby bouncer, beach tent, travel rucksack, crabbing lines, fishing nets and body boards." – Anonymous