Summer Holidays in Cornwall
Make the Most of Summer with Cottage Holidays in Cornwall
When you are choosing cottage holidays, Cornwall is the first place to look. It is regularly named as the number one spot for "staycations" in the UK, with more hours of sunshine than anywhere else in the country. This makes it an ideal summer destination, which also draws visitors from abroad. Its many attractions include swimming and surfing, sandy beaches and of course the famous food. Top delicacies range from seafood and wickedly delicious cream teas to Cornish ice cream.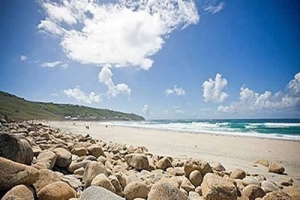 The Rame Peninsula is an area which sometimes gets overlooked when booking a summer holiday in the South West. But this is actually a big advantage for the area, because it means it is not over-developed and there is more space to enjoy the coast and countryside at your leisure. Blue Monkey is in one of the best locations in South East Cornwall, in the twin villages of Cawsand and Kingsand, with their picturesque colour-washed buildings. A stay at this holiday cottage by the sea offers many opportunities to explore the area and discover all it has to offer.
Cottage Holidays in SE Cornwall – Get in touch now for details.
Summer in the Cornish Sunshine
South West England is a summer paradise, and the Rame peninsula is one of the most beautiful areas in the region. Most summer visitors will head straight for the beaches, finding plenty to choose from. Cawsand beach is sheltered, with sand for youngsters to enjoy, and slopes gently to the sea, making it ideal for paddling. At low tide it has a maze of rock pools to explore, where you could discover a variety of small sea creatures. Alternatively, just sit and watch the boats sailing on the blue waters, or hire one yourself. Nearby Sandaways is a good beach for swimming.
At nearby Whitsand Bay, you'll face a steep descent to the beach, but it's well worth it, as there are miles of golden sand. This beach has summer lifeguard cover and is a top spot for surfing, though you do need to be cautious of strong rip tides. Slightly further away, sheltered Looe Bay is a great place for snorkelling and kayaking, as well as sea angling. Crabbing on East Looe Quay is a great addition to family friendly holidays, with nets for both fishing and crabbing provided at Blue Monkey. Or, for a close encounter with the seals in the bay, you could book a 45 minute journey from Looe with Jon and Mike's Scenic Sea Trips (01503 263 147).
Although the seaside might be the main summer draw here, there is much more to enjoy too, including walks through the spectacular countryside. The South West Coastal Path offers many interesting routes, and landmarks to see include historic Polhawn Fort. Mount Edgcumbe Country Park is a must, with its many acres of grassland including unusual lone trees and buildings like the ice house and folly. Also unmissable are the formal gardens surrounding the turreted house itself, with its displays of paintings and tapestries. After a walk round, relax with a cup of tea and a cake at the Stables Cafe.
There are many special events in the area over the summer period, including the annual Black Prince flower boat procession in May in Millbrook, Kingsand and Cawsand; the Port Eliot Festival, which includes everything from music to poetry and comedy; and the Annual British Firework Championships over the Devon border in Plymouth, billed as the biggest free event in the South West.
Cornwall's Cuisine
Eating outside in Cornwall is one of the most enjoyable things to do in summer. You can have a barbecue or picnic at the cottage, or take a basket out with you and bask in the sunshine on the beach. The county is famous for its food, and the first speciality that comes to mind is of course the Cornish pasty. Genuine ones eaten fresh in their own area are very different from paler supermarket-produced versions, having a far richer and meatier flavour.
The coast is also celebrated for its fish, and if you go to local restaurant The View at Whitsand Bay you can try dishes featuring local haddock and monkfish. Alternatively, visit a local chip shop or buy freshly caught fish from Rob (01752 814 040), who will deliver to Blue Monkey.
Cornish cream teas are a holiday must. The Old Bakery in Cawsand is one of the many local cafes offering this famous afternoon tea, which includes scones, jam and cream. Cornish ice cream is another delicacy, and brands to try include Treleavens artisan ice creams, made in East Looe from milk and cream produced locally. It's even possible to sample teas, beers, wines and juices produced in Cornwall.
There is no need to jet off to far-flung destinations for a great summer, because cottage holidays in Cornwall have it all. And a large holiday home like Blue Monkey is an especially great place to relax and enjoy all that the region has to offer.
Large Holiday Homes SE Cornwall – Click here to find out availability.