Enjoy a Christmas or New Year Break at our Luxury Self Catering Cottage in Cornwall
A Luxury holiday cottage that is perfect for your Christmas and New Year Break in Cornwall.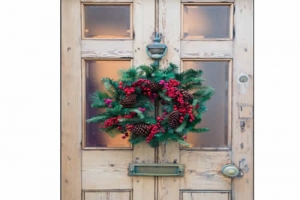 Although Christmas at home might be a tradition, sometimes it is great to do something different – like staying at luxury self catering cottages in Cornwall. Many families and groups of friends find it exciting to go away on holiday over the festive period. South East Cornwall is the perfect choice of destination, because of its beautiful countryside and mild climate, with more hours of sunshine even in December than other parts of the country.
Blue Monkey is well-equipped for you to enjoy a festive break, with a traditional open fire and wood provided to give a cosy blaze. There is a great kitchen if you want to cook here and food can be delivered by online supermarkets ready for your arrival, with everything you need for a Christmas or New Year feast. Alternatively you may be able to book Christmas lunch or attend a New Year's celebration at one of the excellent local restaurants.
Enjoying a Relaxed Festive Season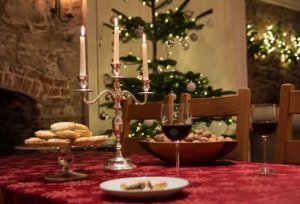 Sometimes, getting away at Christmas can be a big relief. It means you are not under pressure to do exactly the same things you have done in the past – and also it means that an extended family or group of friends can all chip in to organise the festivities, rather than one person or couple being hosts and having to do everything. Also, breaking with tradition can be a great way to start off the New Year, doing something different and exciting as you look to the 12 months ahead.
It can be especially good to do something different, such as spending Christmas breaks in Cornwall, if there has just been a change in the family set-up. For instance, perhaps there are more people to cater for because adult children want to bring their partners. Fortunately, Blue Monkey is a large holiday cottage which sleeps up to eight, or 10 if you include the extra bunkroom – giving plenty of space.
It is also ideal for family friendly holidays, as many activities are provided, including games consoles and board games, which are both very popular with kids during school holidays. If there are new children or grandchildren to care for, the house's many baby facilities, including a baby door bouncer, will also help to make the holiday season go more smoothly.
Cornish Celebrations
Cornwall has a strong Christmas tradition, and many customs which later spread across the country started off in this area – where the festival used to be known as "Nadelik" in the ancient Cornish language. Twelfth Cake, a special festive cake for Epiphany, is believed to hail from Cornwall, and mummers traditionally performed Christmas plays featuring St George over the season.
Today, many special events are organised in the run-up to the festive period, such as Christmas fairs and markets, which you might like to visit if your stay is earlier in December. Over the festive period itself, one very special service to attend is the traditional candlelit carol service on the Sunday before Christmas in medieval Rame Church. Here, candles are still the only form of light, as the 13th-century building has no electricity.
A rather different modern tradition is the annual New Year's Day dip on the beach at Cawsand – which is organised for charity by the Torpoint and Rame Peninsula Lions Club. Even if you don't feel inspired to take the chilly plunge yourself, you can go out onto the sand and cheer on the brave participants. There's also a fancy dress parade before the dip itself, with scores of competitors taking part.
Slightly further afield, there is a massive annual New Year street party in Looe, with hundreds of people thronging the streets in fancy dress on New Year's Eve, before a fireworks display on the seafront. It's worth going along early if you want to join in this event, as the roads can get very crowded.
Cornwall is the perfect place to visit if you want to enjoy a Christmas or New Year celebration with a difference in luxury self catering cottages, surrounded by friends and family. Blue Monkey is welcoming to babies and toddlers, making it an ideal setting to enjoy a festive break with younger members of the family and, as the house is also dog friendly, well behaved pets can enjoy the holidays too.
Our luxury holiday cottage is a perfect place for Christmas. You can book here, or call us 07845 468 487