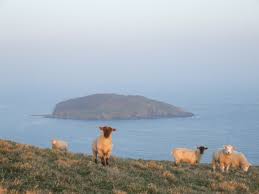 This walk follows starts at Talland Bay and follows the cliff path around Portnadler Bay, overlooking Looe Island. You can find directions here.
3 Local Legends
There is a mediaeval legend that Jesus visited Looe Island, with his uncle, Joseph of Arimathea, who traded with the Cornish Tin traders. Consequently, many early Christians made pilgrimages to Looe Island and a small thatched-roofed chapel was built here. The legend is not quite as far-fetched as it sounds as a fragment of an earthenware amphora was found on the island, originating in the Eastern Mediterranean and dating from around the time of Christ, which provides some evidence that there were trading links between Looe and the Middle East. Excavations by the BBC's "Time Team" found remains of Romano-British chapels built of wood with dating evidence that suggested use by Christians before the reign of Constantine the Great in 272 AD.
During the Dark Ages, the sea crossing to the chapel on the island resulted in a lot of drowned pilgrims, so Lammana Monastery was built on the mainland. It is thought to have been in existence by the 6th Century and grew into a Benedictine Priory and Chapel. It still maintained a chapel on the island which was occupied by two Benedictine Monks until 1289.
A scarred, one-eyed grey bull seal, who was consequently named Nelson, was a familiar sight in the harbours of South Cornwall for over 25 years. He eventually made Looe Island his home and lived there for over 20 years, and was popular with both locals and holidaymakers. After he died in 2003, the life-size bronze sculpture was created as a memorial which now overlooks Looe Harbour from the Pennyland Rocks.