Baby Friendly Holiday Cottages
Staying at Baby Friendly Holiday Cottages in Cornwall
Travelling with very small children can be difficult, as there is so much equipment you need to carry. However, staying at baby friendly holiday cottages can help to make everything go smoothly – and choosing Cornwall will give you the perfect base for a relaxing family break.
As anyone who has holidayed abroad with under-fives knows all too well, flights can be an ordeal, and that's just the start. It might take most of your precious time away to get your over-tired little ones back to any semblance of their normal routine. Fortunately, though, there are no such problems when taking a trip nearer to home, as you can get to your destination and settle in far more quickly.
You will also find it much easier to take any items you need when travelling within the UK. However, the best baby friendly cottages do have plenty of equipment available for you to use. That's the case at Blue Monkey, a large holiday home to rent in a beautiful, quiet area of South East Cornwall, which is ideally equipped for young families.
Baby Friendly Holiday Cottages Cornwall – Follow the link for more information.
Why Cornwall is Ideal for Young Families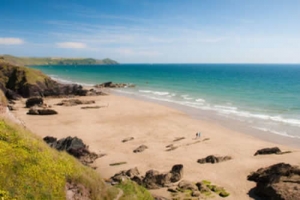 Beaches: Cornwall is the sunniest part of England, enjoying more than 1,500 hours of sunshine over the year. But all this sun comes without the high levels of heat in some foreign destinations, which can be hard for younger children to take. If you're looking for toddler fun on the sand, then the Cawsand and Kingsand area is ideal, with a choice of great beaches.
Blue Monkey is just 25 metres from the nearest beach, with another two beaches just a couple of minutes' walk away. The local beaches have toilets, while Cawsand beach is mainly sand and gently sloping, so you go paddling on calm days. There are also shops and cafes nearby where you can buy ice creams – or buckets and spades! If you want to venture a little further afield, there are many other beaches to choose from. The fact that the Rame Peninsula is so quiet and unspoilt in comparison with some other areas of the South West makes it ideal for family friendly holidays, because the beaches are likely to be less crowded here. If you have just had a new baby and are looking for a quiet break, the "Forgotten Corner" could be the perfect location to choose.
Countryside: As well as its beaches, SE Cornwall is also known for its countryside, and the twin villages of Kingsand and Cawsand are included in an Area of Natural Beauty centred on Mount Edgcumbe Country Park. The trail through Mount Edgcumbe deer park is suitable for pushchairs, or for small children learning to ride a trike or bike. There is also a multi-use trail through the park which is ideal for buggies. While the longer trails in the area may be better for adults and older children, there are many other short walks which tiny tots will enjoy too.
Indoor Fun: Although the great outdoors is the biggest draw of the area, there are also plenty of options to enjoy if there's a wet day. This includes soft play centres, which are a big plus for toddler friendly holidays. There are two soft play centres over the Devon border in Plymouth, 123 Jump Play Centre (for details call 01752 782415) which is the largest centre of its kind in South West England and has a dedicated toddler zone, and Drakes Den (01752 794444).
Baby Friendly Cottage
Anybody seeking baby friendly holiday cottages in Cornwall will find that Blue Monkey is ideal for a larger family group. It has an enclosed garden where children can play in safety, plus four bathrooms and shower rooms – including one shower room on the ground floor, perfect for washing off all that sand. When it comes to equipment, there are no fewer than 3 travel cots provided here, along with 2 high chairs, a day travel rucksack to carry 1 child and a baby changing mat, as well as a . Mealtimes and bathtimes aren't forgotten either, with a baby bath provided, as well as a Melamine feeding set.
With little ones' safety in mind, this child friendly cottage is fully equipped with two stairgates and socket protectors. Also provided are a baby door bouncer and foam play mat for added fun. Few babies' toys are provided, however, because of health and safety restrictions, so the best advice is to bring your children's favourites from home. The house's well-equipped kitchen makes it easy to prepare your toddler's favourite meals, but there are also many restaurants and pubs geared to child-friendly dining if you want to eat out as a family.
Baby friendly holidays aren't just about catering for children's needs, but also about allowing parents to find time for themselves. If you want a night out, we recommend the babysitting service parentandchildnannies.co.uk, which can be contacted on 01392 428 035, where all the babysitters are qualified or experienced child carers. Also, because it sleeps 8, with two extra bunks available, Blue Monkey is big enough for two families to holiday together, so it may be possible to arrange some "mix-and-match" babysitting between yourselves.
Toddler Friendly Holidays SE Cornwall – Click for availability details and booking.