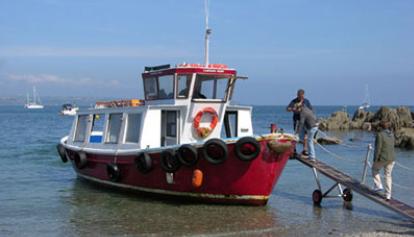 This year's summer heatwave saw a rise in people heading to UK beach resorts for their holidays, with Cornwall being one of the top family-friendly destinations. This picturesque peninsular in the far south west of Britain attracts around 5 million visitors a year, many of whom
want to enjoy all the benefits of luxury self catering accommodation, with surf, sea, sand and stunning scenery on their doorstep.
Whether you are holidaying in Cornwall this year, or want to make the seaside your destination next year, the award-winning Blue Monkey cottage has been named as one of the UK's best coastal holiday cottages by the Sunday Times. It enjoys a peaceful location 25m from the beach in Cawsland, and has four double bedrooms and three travel cots, so it can cater for up to two families.
If you are thinking of booking luxury self-catering holiday accommodation on the Rame Peninsula, Blue Monkey is a great destination for those who want to enjoy water-based activities. Here are some of the things you can do:
Blue Monkey Luxury Self Catering Accommodation Rame Peninsula – Click here to book our award-winning family friendly holiday cottage.
Boat Trips – Boat trips are always fun to do and you can sit back, relax and enjoy the scenery while someone else skippers. If you would like a family trip into Plymouth for shopping, the Cawsand Ferry operates regular daily, 30 minute crossings to and from Cawsand and Kingsand in converted fishing boats. There's a café on the quayside in Plymouth, so you can enjoy refreshments at the end of your day out, while you are waiting for the boat to dock.
Boating and Kayaking – If you want to explore the beauty of the Rame Peninsula coastline at your own pace, Cawsand Bay is popular for boating. You can hire boats from the bay, and kayaks from Hans on Cawsand Beach. Boating and kayaking is a great way to enjoy the wonderful coastal scenery, while getting some exercise too.
Sailing – If you want to be even more adventurous you can even book a sailing lesson or two at any time of year, depending on the weather.  Sailing can be organised through the Mount Batten Watersports and Activity Centre in Plymouth or through Plymouth Sailing School (link to http://www.plymsail.co.uk/), which offer courses tailored to your requirements including private one to one learning, group or family sessions and day sails.
Fishing – It's Britain's favourite sport, and who wouldn't want to cast their line to catch fresh fish to cook at Blue Monkey? You don't have to worry about bringing your own equipment as everything you need is on board, and your skipper will keep you up to date with marine law. Plymouth Boat Trips offers Fish 'N' Trips  where you can enjoy three hours leisure fishing and four hours deep sea fishing. You get to keep what you catch too!
Sea Safari – If you and your children are keen to spot dolphins, whales, seals, or even basking sharks, the Orca Sea Safari is set to be among your holiday highlights. The boats leave from Falmouth, which is about an hour and a half drive from the cottage, and although you can't guarantee seeing all of the above, you will get a glimpse of at least some native sea creatures.
Yacht Chartering – Why not go all out and charter a yacht for a day of opulence on the Rame Peninsula?  Storm Marine  offer family-friendly yacht charters or a 5-star romantic evening on a luxury yacht, where you'll be picked up in a chauffeur driven car and whisked off for the evening to a destination of your choice. Storm Marine offers standard and tailored packages for holidaymakers.
Speed Boating – For a more adrenalin fuelled ride, the 007 speedboat,  operated by Plymouth Boat Trips, offers regular, 20 minute speedboat trips from Plymouth for up to four passengers. It is best to book on a weekday, but you can just turn up at weekends. It is easy to reach the speedboat departure by using the Cawsand Ferry.
Blue Monkey 5 Star Holiday Cottages Cawsand – Click here to book our boutique holiday cottages on the Rame Peninsula.