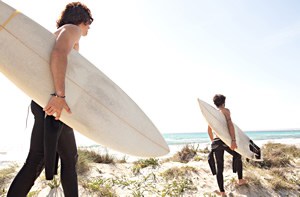 If you are organising holidaying with friends – or have children of mixed ages – is sometimes hard to find a destination that works for everyone. For instance, what if your family is a mix of younger children and teenagers?
Fortunately, Blue Monkey child-friendly cottage in Cawsand, Cornwall, offers the best of both worlds.
Our self-catering holiday cottage has an enviable location just a minute's walk from the sea, so it's ideal for younger children – and adults – who want to enjoy all the benefits of beach life.
For older children and teenagers who want a more active break, however, Blue Monkey is within easy reach of excellent facilities to burn off steam. Here are some of the family-friendly sporting activities you can do on the Rame Peninsula, most of which are suitable for children aged eight and upwards:
Child-Friendly Cottages Cawsand – Click here to find out more about the availability of our big holiday cottage in Cornwall.
Surfing – Cornwall is a surfers' paradise and fortunately Blue Monkey cottage is within easy reach of surfing beaches where families can practice their skills and ride the waves. Cawsand and Kingsand aren't surfers' beaches but some of the bays nearby are. If you are a beginner, there's plenty of surf schools nearby including the Discovery Surf School at Whitsand Bay, which is about five miles from Cawsand. It offers two hour introductory surfing lessons for children aged six and upwards at Tregantle or Tregonhawke.
Hiking – A long walk is a fantastic way for your whole family to enjoy the Cornish scenery and explore your surroundings – and the great thing about walking is that there is no age limit. The Rame Peninsula is an area of Outstanding Natural Beauty and there are plenty of hiking opportunities. The South West Coast Path is a popular walk, or you can take a stroll in nearby Mount Edgcumbe Country Park. If you don't want to stray far from Blue Monkey, you can enjoy spectacular views of Plymouth South in Cawsand. If the weather is good, why not make a day of it and bring a picnic?
Archery – Find out what life was like in ancient times by using a bow and arrow at the Red Elk Archery Centre in Bude, a 90 minute drive from the cottage. You will get full instructions on the workings of your equipment and you'll get to practice on firing at traditional targets, including the not so traditional foam animals. The centre represents great value for money.
Horse Riding – Cholwell Farm and Riding Centre in Tavistock is an hour's drive from Cawsand. It has horses and ponies for beginners and experienced riders and you'll get the chance to go on a country hack to enjoy the superb scenery. Rides are one to two hours in length and lessons are suitable for children aged five upwards.
Kite Surfing – This is a colourful activity to watch from the shore, but if you would like to have a go yourself, Mobius are a couple of hours away at Perranporth, a long sandy beach. The friendly team offers year round kite surfing tuition to beginners, or even advanced surfers who want to brush up on their skills. The guidelines for kite surfing are generally 12 years and upwards although kite bugging and land buggying, which is also offered by Mobius, are suitable for younger children.
Golfing – Children and adults can tee off at one of the many golf clubs in the area. Ivyleaf Golf Course and Driving Range in Bude is an hour and a half's drive from the cottage. It features a nine-hole course, which is ideal for beginners, and floodlit driving range that is open all year round. Prices are £9 for the course, with reductions for under-14s, and the driving range costs can be as little as £1.
Snorkelling – If your children love being in the water and enjoy marine life, aside from swimming, Cawsand Bay offers some great snorkelling opportunities. Accompany them to some shallow water rock pools in and around the bay, or explore some of the fantastic rock pools south of Cawsand Beach.
Blue Monkey Coastal Holiday Cottages, Rame Peninsula – Click here to book.